Register for your Florida Security License now and become a Florida Security Guard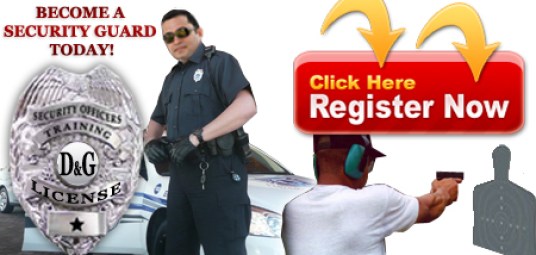 …Get your Florida Security Class such as the Florida D License and Florida G License in Miami Dade County, Broward, Ft Lauderdale, Pompano, Homestead, West Palm Beach, Ft Myers, Kissimmee Orlando & all Florida.
See Class Schedules & Register Online
Register Online for your Florida Security License and get a License to work as a Security Guard with all security guard companies in Miami Dade County, Broward or Florida. All security guard classes in Miami Florida are provided by licensed security guard instructors and other experts with many years of experience at ALLSTATE TRAINING ACADEMY. (Lic: DS2100008) 🙂
FLORIDA SECURITY LICENSE
The Florida Security License Class offered by our network of affiliate schools provides the main requirements needed for unarmed security guard employment in Florida… 40 Hours of Florida Security Class are required by Florida State Statutes Section 493. Work as an unarmed security guard after you complete 40 hours of security guard training course at a Florida Security School near you.
Upon completing the unarmed class D class with All State, students will be issued the Florida temporary security guard license. They will then be sent a permanent Florida Security Guard License directly from the state of Florida Department of Agriculture Division of Licensing…known as the permanent D License within 60 to 90 days of completing the Florida D license security guard class…Register at a Florida Security School in your local area.
Course Registration Fees Includes :
40 Hours of Florida Security Class Training
Report Writing, Observation Skills, Accident and Crime Prevention, Use of Force, Legal Liabilities and Issues, First Aid, Fire Suppression, Emergency Procedures , Crime & Accident Prevention and Other Required Security Class Training, Required Fingerprinting, Required Security Guard License ID Photos & State License Application Notarization.
Florida Security License applicants must be 18 years old or older, pass a criminal record check, & complete the Florida D license training with a local Florida Security School.
Attend the upcoming Florida Security Guard Classes…. Register for security classes today & you may also be enrolled in the job placement program. Classes for Florida Security Officers are limited so register early for the Florida Security License.